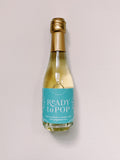 Mini Non-Alcoholic Champagne - Blue
$99.00
187 ml / 6.3 fl oz
100 calories per serving
Sold by the case of 24 bottles.
Your favorite non-alcoholic bubbly, but mini!
Personal sized Ready to Pop in blue is perfect for baby shower party favors, a place-setting accent, or to stock up on individual servings to last you all the way through pregnancy (and beyond!)
Our non-alcoholic bubbly tastes of refreshing green apple and ripe pear flavors, followed by a crisp clean finish. 
*Shipping: Orders take 1-3 business days to process, and will then be shipped via USPS Priority or UPS Ground. Contact us directly if you have questions about order timing.